Reliable and redundant distributed GPS timeing over fiber



The F-GPSF GPS over fiber system is a transmitter and receiver pair used to transmit the RF Carrier signal from a GPS antenna to a remote location up to 10 Km. There are many advantages to converting the GPS Carrier to an optical signal for GPS over fiber. Fiber Optic cable is much less expensive than low loss coaxial cable used for RF signals. It is also much smaller and easier to work with. Optical signals are not affected by RF interference, therefore this system can be used to transport a GPS signal over fiber through a noisy RF environment. The F-GPSF can also be used to transport the GPS signal over fiber from a single GPS antenna to a multitude of locations throughout a building, aircraft, or ship.
This Fiber Optic GPS Antenna Link is a complete system which allows us to convert the GPS Carrier from RF to Light, transmit it up to 20 Kilometers if need be then reconvert it to RF to be received by the GPS Receiver.
Global positioning systems (GPS), used for navigation, relies on signals from satellites in a geosynchronous orbit around the earth. This synchronization is required for personal communications systems (PCS) such as cellular telephones. PCS base station signals using fiber optic transmitters and receivers experience low loss and high quality. In addition, smaller, less expensive power amplifiers can be mounted to the tower reducing transmission losses and system cost. Fiber's dielectric properties also reduce damage from lightning strikes at PCS base stations. Fiber optic L-Band , GPS links can also be used as an outside repeater in shopping malls, tunnels, and subways where PCS signals are non-existent or extremely weak, allowing L-Band satellite transport .



Product features

• Minimal signal loss and degradation over very long cable runs upto 20km.
• Provides a highly secure tamper-proof GPS over fiberconnection between antenna and receiver.
• Interference free link through noisy environments, the optical signal is unaffected by electical noise.
• Flexible, small-diameter, lightweight optical fiber cable for GPS over fiber.
• Lower cost of optical fibre cable compared with long cable runs of high quality low-loss coax.
• Electrical isolation between antenna and recever protects against lightning strikes and electrical surge
Aplications
- GPS base stations with long antenna cable runs
- Run the GPS carrier to multiple GPS timing boards throughout a company
- Run GPS throughout an aircraft
- Satisfies the requirement of supplying multiple GPS receivers with a carrier, spread over a great distance
- For R&D facilities, supplies a GPS carrier to a multitude of engineers and technicians with only one antenna on the roof.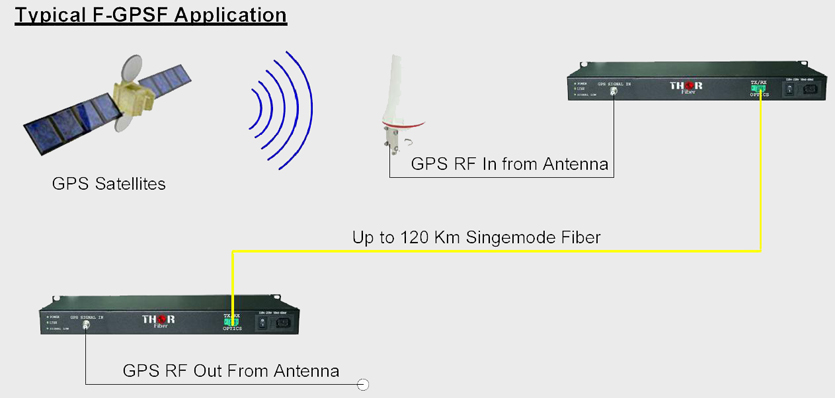 Product Specifications
Electro Optical Characteristics
Optical Output
1 mW min.
Wavelength
1310 nm

RF Characteristics
Modulation Bandwidth
1000-1700 MHz
Amplitude Flatness
1.5dB typical
Input VSWR (50 Ohm)
2.0:1 max
MW/ma@1200Mhz
0.1mW/ma min
1dB Compression

-25 dBm
Power
110/220 or 28-36 VDC
Physical Characteristics
Dimensions-Indoor Rack Mount
Height 1.75
Width 8.0
Length 17.0
Sealed Outdoor Waterproof Box
Height 4.17
Width 7.72
Depth 12.0
Link Characteristics
Link Loss

15 dB typical
Carrier/Noise (30khz BW)
15 dB min with input drive level at 70 dBm
3rd Order Intercept

22dBm
Environmental Conditions
Operating Temperature
-25 to +70 (deg C)
Storage Temperature
-30 to +75 (deg C)
Mechanical
Optical Connectors
FC/PC Fiber S/M 9/125